Today was a fantastic opener for my second year at SXSW Eco. After a brief press breakfast with some introductions and TWO different selections of pork-based breakfast sandwiches (of which I chose the fruit) the day began in the bustling Austin Convention center.
This was a new venue and a new field. Obviously bigger than the previous year, this growing festival was alive with energy and excitement. A bustling crowd, or "a sprawling metropolis" as model/eco activist
Summer Rayne Oaks
Tweeted, had already begun to surround the introductory event.
After a modest and pre-recorded "hello" from Christiana Figueres, Executive Secretary UNFCCC, came one of the first keynote speakers,
Ron Finley
.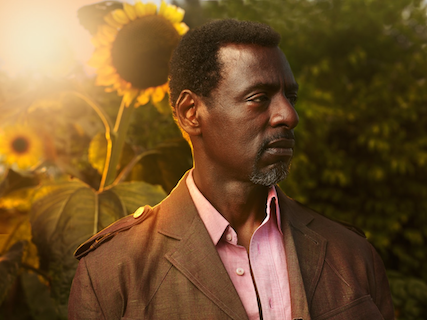 This guy blew my mind. I hate to admit it, but when he asked, "how many of you don't know who I am?" I sheepishly raised my hand. His story is amazing; starting an urban garden movement out of getting in trouble for planting one. The very real manner in which he spoke, the passion in his tired voice and how he tied our lost connection to food to our failing school systems to our food deserts. All of it resonated.
When it ended I was slightly disappointed that I didn't have a chance to chat with him but off I ran to catch the Ocean Conservation through Social Innovation panel which hosted my good friend and Ocean mentor Charlotte Vick and Anna Clark, who apparently worked on the shark fin ban in the Texas legislature at the same time I worked on it remotely. The highlight of this chat was to see first hand footage of
Infinite Scuba
, a video game that teaches you how to dive, how to deal with "narc"ing and even explore sunken treasures. At my first chance I am going to play the heck out of that game.
Making Carbon Visible in Cities
was another mind-blowing panel. Not only did it play to my sustainable cities and Gov 2.0 loves but it tickled my data nerd-dom. I was introduced to a depository of emission data and a company whose sole purpose is to turn that data into digestible, powerful and
engaging visualizations
.
One of the best parts of the evening was being able to go to this first day after party meet up drinking margaritas in the hot Texas air and talking shop with tons of interesting people from interesting backgrounds including chatting a reporter from the Guardian, a blogger from
Forecast the Facts
and a communications professional from the National Parks Conservation Association about why
Google is playing for VERY conservative Senators
.
Tomorrow I have my hangout to look forward to and I apparently picked 4 different panels to go to at the same time so, again, decisions.